Outings (Mt bikes)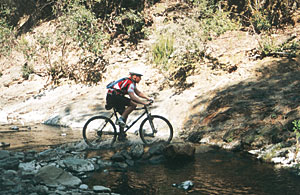 Well known for its "cru" , the village of Berlou has also got a reputation for its pedestrian and
bicycle circuits. What else could be more pleasant than an outing across these landscapes , designed by winegrowers that date back to the Charlemagne era.
Admirable isn't it? These winegrowers who have successfully associated Wine and Cycling ;
succeeded to link their vine growing village with an intelligent kind of tourism. Enhancing the value of a country is also a way to promote "soft" tourism.
That is why the Berlou Winery has taken the initiative to signal four circuits of different lengths and levels. For those who would like to discover the site outside of the marked routes , walking pamflets are available at the winery.